Partner Marketing Resources
Use these marketing and communication resources to inform and engage industry partners, employers and employees on how iJoin can help them succeed.
Introducing iJoin to Employers
Introduction Letter to Plan Sponsors
Use or edit this document to create your letter announcing iJoin to plan sponsor clients.
iJoin One-Page Overview
Use this meeting handout to introduce iJoin to your clients.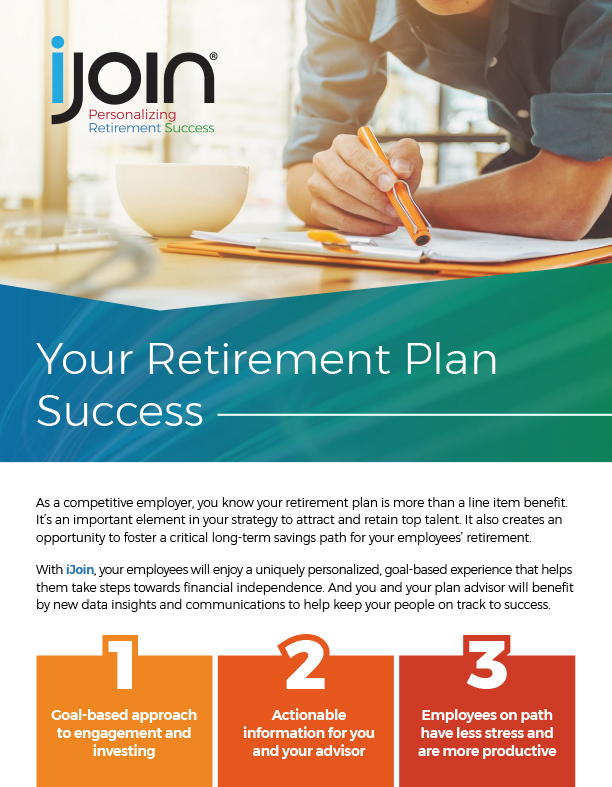 Your Retirement Plan Success
Help new and prospective plan sponsors understand the value of iJoin plan success metrics.
iJoin MAPs Overview
We're Changing How the World Looks at MAPs breaks down iJoin's approach to Managed Account Programs.
iJoin Overview Brochure
Use this digital brochure to introduce iJoin to your clients.
iJoin videos for marketing partners
Introducing iJoin to Employees
Text version of the
i

Join Employee Introduction Email

Use this document to copy/paste the content of our recommended Employee Introduction Email into your email system.
*To download the images, right click on it and click "Save As" and save them to your computer.
Employee Postcard & Poster
iJoin Enrollment Employee Breakroom Poster
*Use the "with bleeds" file to send to a professional printer.
iJoin Enrollment Employee Introduction Postcard